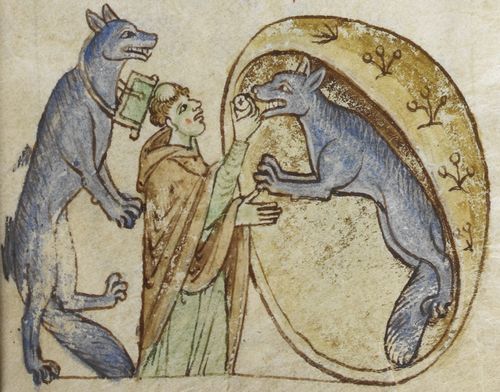 The werewolves of Ossory in Gerald of Wales' Topographica Hibernica (London, British Library, Royal MS 13 B. viii, f. 18r)
Next meeting: 23rd November 2016 / Room 2.46 / 3-5pm
One of the first stories of the transformation of a man into a wolf occurs in Ovid's Metamorphoses. In Book 1 of the Metamorphoses, Ovid tells the story of Lycaön, the king of Arcadia, who served human flesh to Jupiter when the king of the gods wandered the earth disguised as a mortal. Lycaön's 'gruesome banquet'[1] breaches the laws of hospitality, and Jove retaliates by transforming him into a wolf:
Lycaön fled to the country
where all was quiet. He tried to speak, but his voice broke into
an echoing howl. His ravening soul infected his jaws;
his murderous longings were turned on the cattle; he still was possessed
by blood lust. His garments were changed to a shaggy coat and his arms
into legs. He was now transformed into a wolf. But he kept some signs
of his former self: the grizzled hair and the wild expression,
the blazing eyes and the bestial image remained unaltered.
(Metamorphoses, I.233-9)
Ovid's story of Lycaön fits into the broader thematic structure of Book 1 of the Metamorphoses, which focuses on the depravity of humanity. In response to Lycaön's treachery, Jove holds an assembly of the gods, and he announces his intention to send a flood to destroy mankind for their crimes. Only Deucalion and Pyrrha survive the flood, and they produce 'new race of miraculous birth' (Metamorphoses, I.252) who repopulate the earth.
Stories of werewolves were also popular in medieval Europe. Werewolves became associated with the romance tradition in which a man – baron, knight, or king – became trapped in a wolf's body through the treachery of his wife. Marie de France follows this plot in Bisclavret (1160-1215), which was the source for Melion (c. 1170-1267) and Biclarel (1319-22). Meanwhile, the French romance Guillaume of Palerne (1200), which was translated into English in the fourteenth century, recounts how the hero was changed into a wolf through his stepmother's enchantments.
The medieval werewolf is a rational creature. As Amanda Hopkins writes, these stories demonstrate the werewolf's
gentle behaviour, his human mind and sensibilities [which are] trapped inside an outer form that was indistinguishable from a wolf. If a werewolf attacked someone, it was with reasoned purpose: to express the injustice done to him and often to identify the culprit.[2]
The benevolent nature of the medieval werewolf contradicts our modern view of the werewolf as a vicious, cannibalistic creature; however, the Wolfsbane potion helps today's werewolves resist their killer instincts. Remus Lupin – who was surely everyone's favourite Defence Against the Dark Arts teacher – frequently used the potion during his lifetime.
Overview of the texts
Five different manuscripts contain one or more of Marie's lais, but only one thirteenth-century manuscript – London, British Library, MS Harley 978 – contains all twelve.
Melion survives in a single thirteenth-century manuscript, Paris Bibliothèque de l'Arsenal, 3156, f.343r, col. 1-344r, col. 4 – 1268.
Biclarel is extract from first redaction (A-text) of Le Roman de Renart le Contrefait, which is included in MS Paris, Bibliothèque Nationale de France, fr. 1630, anc. 7630, de la Mare 284. Biclarel appears in f.188 col. a- f.190, col. D. The manuscript dates from the fourteenth century.
Arthur and Gorlagon survives in a single fourteenth-century manuscript, Oxford, Bodleian Library, Rawlinson MS B 149, pp. 55-64. The story originates from the twelfth century.
Questions for discussion
How does the werewolf challenge the boundaries between human and animal? How do the different accounts of transformation from man into wolf compare with each other?
Marie writes that '[a] werewolf is a ferocious beast which […] devours men, causes great damage and dwells in vast forests'. Do the werewolves in these texts conform to or defy this description?
Is Biclarel 'a mere imitation' of Bisclavret?
Medieval werewolf stories traditionally explore the opposition between marital love and feudal service; however, Arthur and Gorlagon focuses on the question of 'what women want'. Is this text a parody of the werewolf romance? What other texts also revolve around this central quest?
Biclarel and Melion are more explicitly misogynistic that Bisclavret and Arthur and Gorlagon. Why do you think gender politics are central to medieval werewolf stories?
In medieval werewolf stories, adulterous women are often punished 'publicly and voyeuristically'. How do these texts legitimate violence against women? Is it significant that the wife goes unpunished in Melion?
Why do to you think King Arthur was later included in werewolf romances? Is the Arthurian setting relevant in these texts?
Does the medieval werewolf story constitute a genre in its own right? If so, what are its defining features?
Further reading
'One thing I know': Werewolves Are a Thing
References
[1] Ovid, Metamorphoses, trans. David Raeburn (Harmondsworth: Penguin, 2004), I.164.
[2] Amanda Hopkins, 'The Medieval Werewolf', Centre for the Study of the Renaissance, University of Warwick. Available at http://www2.warwick.ac.uk/fac/arts/ren/news_and_events/researchblog/werewolf/ [accessed 18th November 2016].